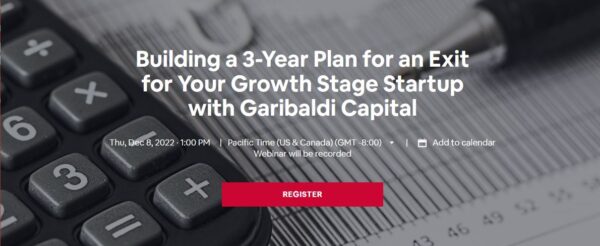 Doing the Right Strategic Planning for Optimizing Your Potential for a Successful Exit
Every investor will ask you "what is your exit plan?". As an early-stage startup, it seems too far away that any answer seems achievable. But once you have significant investment and you are on a high growth trajectory, you need to begin considering your options for exit.
For many entrepreneurs, they are so busy focusing on growth, hiring, raising capital, etc that an opportunity to get acquired presents itself as a bit of a surprise. Many of the entrepreneurs that have sold off their companies will tell you that they wish they were better prepared and often feel they did not maximize their exit valuation as a result.
So how do you prepare better? This seminar will guide you through the many areas you can optimize for your exit with a 3-year plan.
Did you know that the majority of exits occur with buyers that have known your company for many years?
To maximize exit potential, there is a mix of established relationships, financial metrics, industry partnerships and market leadership practices that make you a highly desired acquisition target.
Join us as we explore issues around assembling the right plan and putting the right preparations in place…