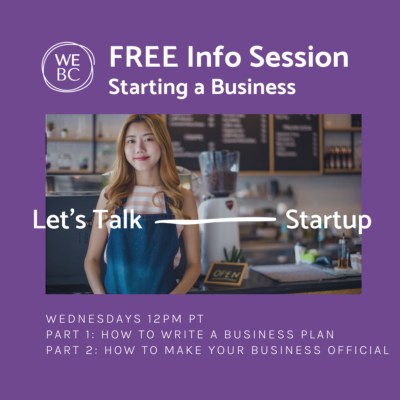 Join us to get inspired and excited about starting a business in BC!
You have a business idea—congratulations! Now it's time to get it down on paper.
A business plan can help you test your ideas, make decisions, minimize your risk, get funding and so much more.
In SBIS Part 1, we use the document "How to Write an Effective Business Plan" to break down business planning into 10 steps.
You will learn about:
How to structure your business plan and where you can go for industry-specific samples
What to include in each section and how to think through them
How each part of your business plan works together to create a roadmap for your business.
About WeBC Starting a Business Info Sessions
If you think you're ready to start a business, we encourage you to participate in our FREE virtual Starting a Business Information Sessions (SBIS).
There are lots of steps to starting a business, so these sessions will provide tips and resources as you work through each aspect of starting a business.
SBIS is offered each week on Wednesday at noon, and we alternate between parts 1 and 2 from week to week. These FREE virtual sessions are held every Wednesday from 12pm to 1pm Pacific Time. While we recommend you participate in both parts, you may register for one or both sessions.