[MEDIA RELEASE] Women's Enterprise Centre Wins National Not-for-Profit Award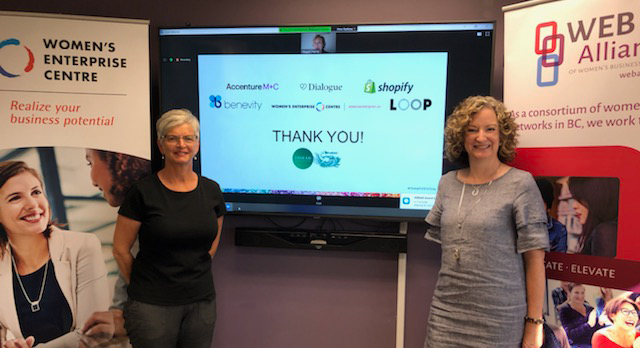 BC-based organization recognized as using 'Business as a Force for Good' from INSEAD
Women's Enterprise Centre (WEC), a BC-based non-profit organization, has been honoured with a national award for its work supporting women entrepreneurs to start, lead and grow their own businesses in BC.
Women's Enterprise Centre provides business loans, advisory services, training, mentoring and a supportive community to thousands of women business owners all over BC each year.
The third annual "Business as a Force for Good" awards are an initiative led by the INSEAD National Alumni Association Canada and the INSEAD Alumni Fund. Each year they recognise six outstanding Canadian companies that are making a positive impact on the world, and Women's Enterprise Centre has won this year's Not-for-Profit award.
"The team at Women's Enterprise Centre is honoured to receive this award, and it's even more incredible to be named alongside these other impressive organizations," says Jill Earthy, CEO of Women's Enterprise Centre. "This is wonderful timing, to be recognized for our impact when we're also celebrating our 25th year of serving the women entrepreneurs of BC!"
Since 1995, WEC has provided over $72.8 million in direct and leveraged financing, which has created over $2.18 billion in economic activity in BC and has helped create or maintain over 3,300 jobs. They have hosted over 38,800 training participants in nearly 2,100 workshops. Since 2007, they have matched over 1,250 women with mentors. Last year alone, WEC staff responded to over 19,000 inquiries from current and aspiring women business owners in BC and held over 2,100 complimentary one-on-one business advisory sessions.
"When we reflect on our success, it can't be narrowed down to one big action, but a consistent commitment to our clients, understanding their needs and collaborating with our partners," says Earthy. "The best part of our job is watching our clients go on to become leaders, mentors and award-winners themselves."
The rest of the 2020 Business as a Force for Good award winners are:
New Technology or Service in Response to Covid-19 (Large Corporation): Accenture
New Technology or Service in Response to Covid-19 (Small and Medium-size Business): Dialogue Technologies Inc.
Non-Profit Organization: Women's Enterprise Centre
Small- and Medium-size Business: Benevity
Large Corporation: Shopify
Start-up: Loop Mission
Women's Enterprise Centre was recognized during a virtual awards ceremony on Friday, and they celebrated with former WEC CEO, Laurel Douglas, who forged the connection between INSEAD and WEC, and encouraged their nomination. The event was broadcast internationally across the INSEAD network, thus providing a unique global visibility to the award winners.
---
For media inquiries, please contact communications@we-bc.ca