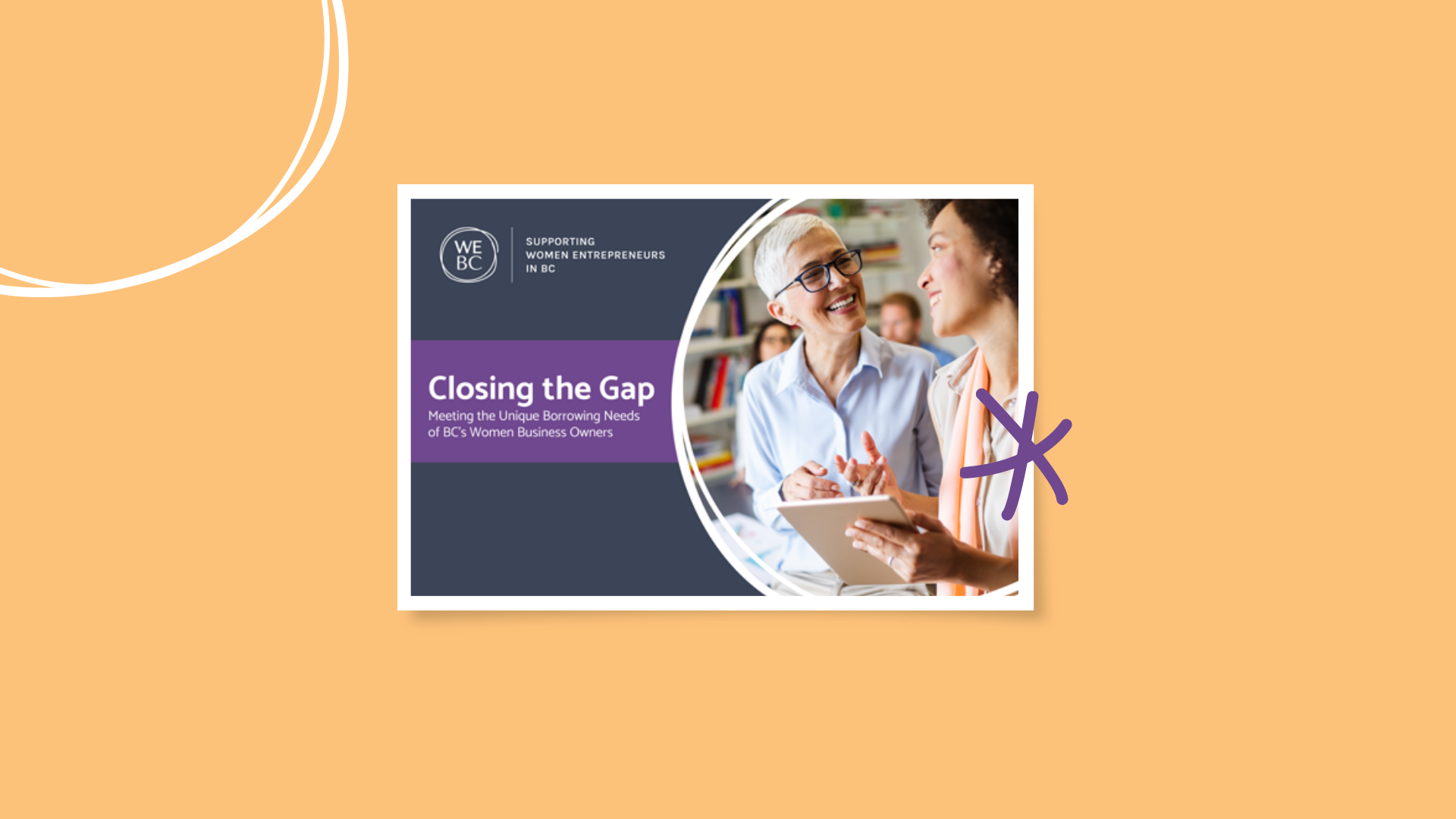 KELOWNA, April 28, 2022 – Nearly half of BC women entrepreneurs who plan to seek funding in the next year do not know where they will access it. This, according to a study released on April 28 by WeBC, entitled "Closing the Gap: Meeting the Unique Borrowing Needs of BC's Women Business Owners."
WeBC is a not-for-profit organization, funded by Pacific Economic Development Canada (PacifiCan), that has studied and supported women entrepreneurs in BC for 27 years. WeBC conducted a survey in fall 2021 with nearly 300 women business owners to learn more about the types of financing and support women need to start and grow their small businesses post-pandemic.
The study shows that 88% of women plan to grow their business in the next year, and 70% of those will need funding to support that growth; yet, 48% have yet to decide where to apply for funding. Only 10% plan to approach a bank or credit union, with the largest numbers opting instead for grants and government programs. With many pandemic funding programs winding down, this leaves a large number of women entrepreneurs who do not have a long-term funding source.
"This limits their ability to grow their business, and stalls our economic recovery in BC,"
says Melanie Rupp, Senior Director of Loans & Advisory Services at WeBC. "The impact of women self-funding their business is two-fold: first, women can't leverage equity to scale their business effectively and, second, they don't have a strong relationship with a funder who can support them at each stage of growth."
According to the report, women are looking for more than funding. 75% say support is essential for their success, naming networks, skills development, mentorship, coaching and advisory boards as their top needs.
"We call this the 'Closing the Gap' report because we see this as an opportunity for the ecosystem to collaborate on programs that better support women business owners and their communities," says Melanie. "Women need funding, financial institutions want to serve this growing segment and support organizations like WeBC have the expertise to provide funding and wrap-around services that support women's unique needs."
This report is the follow-up to a report WeBC released last year called "The Path forward: Advancing the Funding Journeys of BC Women Business Owners," which includes specific recommendations for funders to improve access to capital for women entrepreneurs.
Formerly known as Women's Enterprise Centre, WeBC provides business loans, advisory services, skills development and mentorship to women business owners across BC. The report is available for download on the WeBC website at go.we-bc.ca/ClosingTheGap
Key statistics
70% of women indicate they will need to access funding to support their growth in the next year; of those, 48% have yet to decide where they will apply for funding.
Of the women business owners who applied for funding in 2021, only 17% applied through a bank. Only 6% feel very satisfied that their bank recognizes their distinct business goals, wants and needs as a woman business owner. Only 10% of women indicate they will approach a bank for a loan in the next year.
75% of women indicate that business support services are essential for their future success, and 55% tried to access at least one business support service in the past year.
88% of women business owners are projecting growth in the next year.
73% of women say Access to New Networks is essential to their success; however, 53% say they don't know where they can go to do so.
The Women's Entrepreneurship Strategy aims to double the number of women-owned businesses in Canada by 2025. However, women with businesses less than two years old anticipate that accessing funding will be their biggest obstacle in the coming year.
Since 1995, WeBC has provided over $81.7M in direct and leveraged funding to women entrepreneurs, resulting in over $2.45B in economic activity in BC. It has provided over 78k one-on-one advisory services and hosted over 53k training participants.
Media Contact
Melanie Rupp
Senior Director, Loans & Advisory Services, WeBC
melanie@we-bc.ca
1.800.643.7014 ext. 203
About WeBC
WeBC is a not-for-profit organization that has been supporting women business owners across the province for 27 years. Working with regional partners, they have provided thousands of entrepreneurs with business loans and expertise, training, resources, and peer support to help businesses grow and thrive. WeBC is funded by Pacific Economic Development Canada (PacifiCan).