#WeRoadTripBC Roundup – Women-Owned Businesses You Need to Visit in Whistler

This fall, Women's Enterprise Centre is taking a virtual road trip around BC to spotlight all the amazingly talented local women-owned businesses, entrepreneurs and fantastic local Partners who support women in business.
Visiting one region at a time, our WEC hosts on the ground will be introducing you to a number of different women-owned businesses so you can see just what is available all around BC!
The first stopover on our virtual road trip was Whistler, BC – a year round resort town and playground for adventurers!
MEET THE HOST
Our WEC host for this leg of the trip was Jacquie McLean, WeBC's Marketing & Communications Coordinator.
Jacquie's love of snowboarding, hiking, camping, paddle boarding and aerial arts has kept her in this beautiful mountain town for almost 7 years. With a genuine love for her community, she showed us just a few of the fantastic women-owned businesses and support organizations in the area.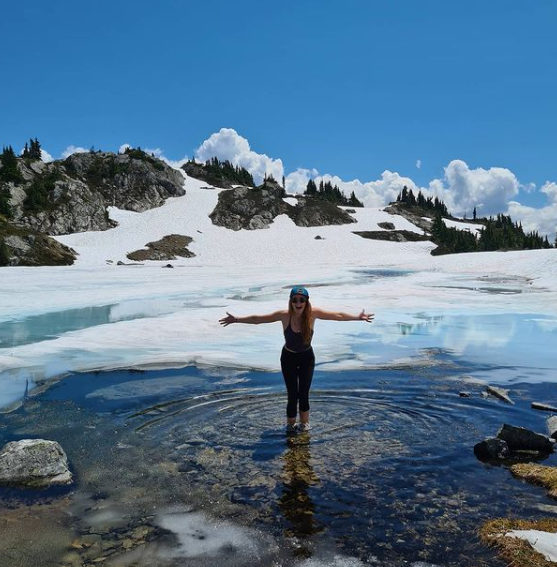 MEET THE FEATURED BUSINESSES
Location: in Function Junction, between Coast Mountain Brewing and The Sk8 Cave. 5-120, 1208 Alpha Lake Road, Whistler, British Columbia.
The Velvet Underground is an online and in-store vintage clothing shop owned by Amy Rafferty who is a WEC Mentee! In her own words Amy is on a mission to:
create a brand and community dedicated to promoting self-expression through fashion, art, and music, as well as educating and inspiring a more sustainable and conscious lifestyle both for the people and the planet.
What better way to do this than repurpose, upcycle and sell vintage clothing? Not only does she own and operate The Velvet Underground, she also runs a vegan cafe, The Velvet Cafe, at the same location.
Learn more & connect with The Velvet Underground:
Instagram – @shop_velvetunderground
Read her full story on the WEC website Amy Rafferty – The Velvet Underground
Location: In Whistler village, between Stonesedge Kitchen & Fat Tony's Pizza. 12-4122 Village Green, Whistler, BC V8E 1G9
Soles Nail Lounge and Footwear is a dream come true for owner Liz Caruso, who is a WEC loan client. Liz was able to combine two of her passions into one with Soles Nail Lounge and Footwear, which is a manicure and pedicure lounge that hosts special events like birthdays, bachelorette parties and girls nights (or boys nights). The space also features a retail section that keeps fashion and comfort in mind. Soles carries a wide range of distinctive and stylish footwear for every shoe lover.
Learn more & connect with Soles Nail Lounge and Footwear:
Instagram – @solesnailloungewhistler
Read her full story on the WEC website Liz Caruso – Soles Nail Lounge and Footwear
Location: In Function Junction, next to Blacktusk Fire & Security and RONA. Unit 103, 1330 Alpha Lake Road V8E 0R6, Whistler, BC V0N 1B1
Dani Duncan's passion and love for circus started when working as a dance instructor for a summer camp where she then became a flying trapeze instructor. For five consecutive summers she joined the circus and completely fell for aerial silks. Dani's love for circus arts took her on an entrepreneurship journey through America and Ireland, finally landing her in Whistler BC.
Her silk was kept neatly folded under her bed for months after arriving, and when an opportunity came up for her to start teaching aerial again in 2015, she jumped on it. This was the beginning of Treeline Aerial, which is now a full-time operation offering kids, teens, adult beginner and intermediate classes throughout the Sea to Sky Corridor.
Learn more & connect with Treeline Aerial:
Instagram – @treelineaerial
Website – https://www.treelineaerialbc.com/
Location: The unceded traditional territory of the Lil'wat Nation.
Heidi is a professional artist, designer, art teacher and mom to two awesome boys. After receiving her BFA from Emily Carr Institute of Art & Design and Teaching Certificate from SFU she pursued a career as a high school art teacher. Once she started her family she decided to leap into the world of entrepreneurship.
Starting and running her business from home she has never looked back! Heidi's original art, designs and art classes are available on her website with 1% of all Heidi The Artist sales given 50/50 to POW (Protect Our Winters) & the SLCC (Squamish Lil'wat Cultural Centre).
Learn more & connect with Heidi The Artist:
Instagram – @heiditheartist
Website – https://www.heiditheartist.ca/
With so many amazing women-owned businesses, partners and support organizations in and around Whistler, we only had time to visit a few. However, two stand out organisations doing fantastic things for women in business are:

The Whistler Chamber of Commerce is dedicated to championing their community they have made a conscious effort to support Whistler's women in business.
Understanding that a crucial step in reaching equality is to celebrate women's achievements and increase their visibility, the chamber has even created a directory where you can find women-owned businesses in Whistler!
Check it out on their website at: https://www.whistlerchamber.com/membership/whistlers-women-in-biz-directory/
Providing support for all Whistler Businesses, The Whistler Chamber also annually hosts the Whistler Excellence awards. In Celebration of Whistler's innovators, trailblazers and community cultivators, the virtual business and community awards aim to build brands and honour local legends.
Known locally as WOW, this is an inspired network of businesswomen, connected to learn, mentor, and share ideas in a supportive environment.
What WOW does:
WOW enhances the development of women in the areas of networking, learning and mentorship, through access to local, national, and international resources
WOW's Purpose:
To connect and inspire women in our community.
To find out more and join the WOW network:
Instagram – https://www.instagram.com/womenofwhistler/
Facebook – https://www.facebook.com/womenofwhistler
---