Are you Good to Grow? Growth Strategies for Your Small Business

Kelly Masson
October 26, 2022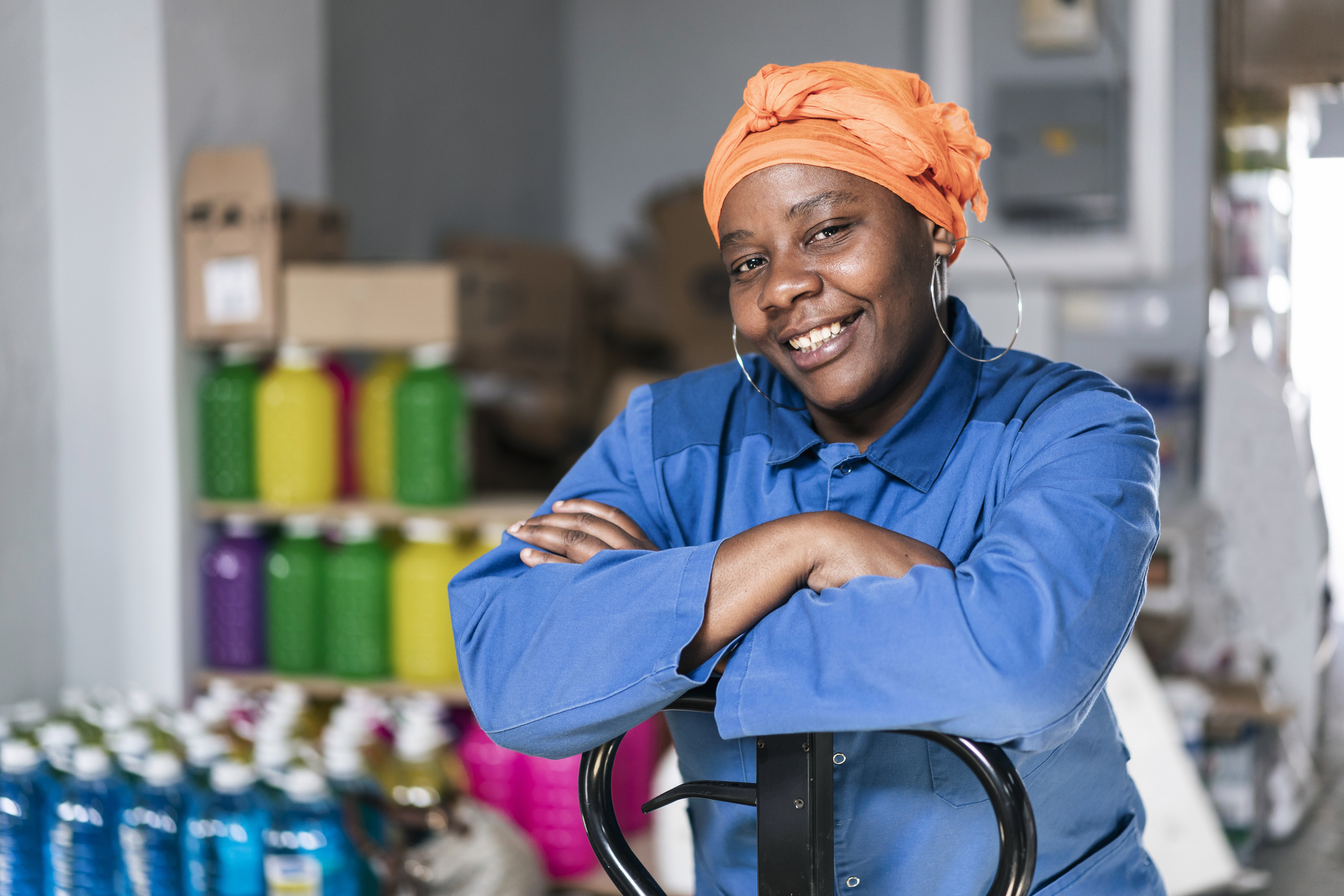 Are you feeling stagnant in your business, but aren't quite sure which growth strategies will work for you? That's what we're going to cover in today's business skills blog.
There are some exceptions, but most entrepreneurs I speak to are not content for their business to stay just where it is. They want to grow their business! Maybe they want to expand to a new product line, enter a new geographical market, or open a new location.
To start, let's go back to Business 101 and cover some of the main approaches you can use to grow your business based on the Ansoff Matrix – a classic business framework developed by H. Igor Ansoff in the 1950s.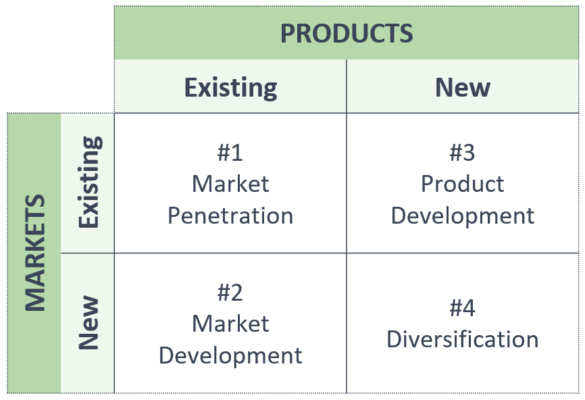 According to this framework, growth strategies can be organized into a matrix, with products (what you sell) on one side, and markets (who you sell to) on the other.
So your strategy might be based on expanding existing products and existing markets (#1 – market penetration), existing products and new markets (#2 – market development), new products and existing markets (#3 – product development), or new markets and new products (#4 – diversification).
I'll dig into each of these approaches one-by-one and provide some ideas for how to apply this strategy to your business.
Lastly, I'll cover a few potential roadblocks you should look for when setting your growth strategy. After all, growth is good, but it needs to be sustainable.
Growth strategy #1: Market penetration – Grow sales of existing products to your current customers
An effective "low hanging fruit" growth strategy can be realized by building your relationship with existing customers to entice them to purchase more of your existing product. After all, your customers already know you, and presumably, enjoy your product. So how can you make that relationship even stronger?
Depending on your product, it can be quite effective to focus on simply getting your existing customers to purchase from you more often.
People probably have a limit to how much they can spend (I only need so many cups of coffee in a day or pairs of pants in a year) but in many cases you can try to earn a higher relative share of their purchases in that product category.
For example, let's say someone has a budget of $100 per month to spend on clothes. Right now they spend $40 per month at your store. That gap of $60 represents potential additional revenues if you could just provide what they're looking for.
Potential tactics to increase sales can include loyalty programs and promotions, VIP and early access sales, or even just focusing on providing top notch service!
In a previous post I provided some ideas for how to use marketing tactics to better reach your target market – so look there for ideas as well.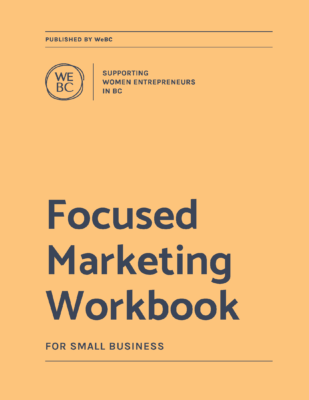 Focused Marketing Workbook
Do you feel tired and frustrated at the amount of money and effort this marketing requires? What if you could find a way to reduce the scatter, efficiently manage your time and get better results?
Growth strategy #2 Market Development – Increase sales of existing products to new customers
If you're a newer business, it's essential to focus your early efforts in a very targeted way (to your target market, of course). But once you have a good handle on your product and are operating sustainably, maybe it's time to develop new markets for your existing products.
Some new markets will be a simple extension of your target market. Maybe it will make sense to expand to a new geographic location, start an online store, or maybe even start exporting to another province or country. But you can also develop new markets for your existing product by discovering the value that other untapped market segments could get from your product.
For example, maybe your product can be sold directly to other businesses (B2B), instead of just to consumers (B2C). Perhaps there are institutional opportunities like selling to governments or getting involved in a supplier diversity initiative?
The key is to take a step back and think about the function of your product and who else might benefit from it? Maybe instead of only targeting new mothers for your baby store, you could also tap into the market of grandparents looking to spoil their grandkids. Same product, new market.
Once you've identified a new potential market, you'll need to revise your marketing strategy accordingly—this is a new market, so they will need a targeted marketing approach.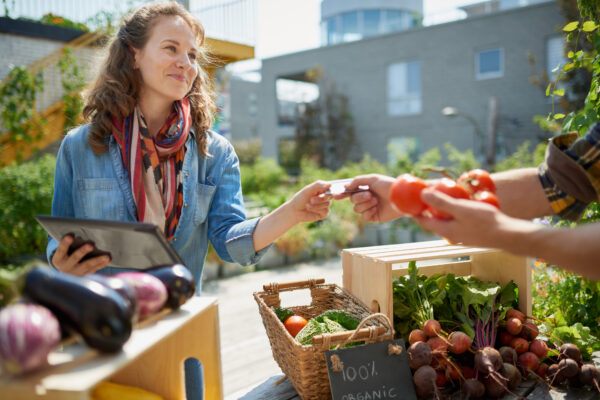 Growth strategy #3 Product Development – Develop new products for existing customers
Next up in the matrix is to sell new products to your existing customers. Again, you already have a relationship with the customer, which makes it likely that they will consider new products from you as well.
New products can be an extension of your current products (such as offering new colours, designs, or flavours), and this can be a good approach for products that customers are likely to buy more than once.
For example, your customer might love your t-shirts so much they want one in every colour. Or they can't get enough of your artisan strawberry jam, and they can't wait to try more flavours.
New products can also be something that complements or accompanies your existing products. Perhaps your clients need a pair of shorts or a hat to compliment their t-shirt. Or they need artisan crackers to accompany your artisan jam. One thing to note, however, is to make sure that production and sales of this product fit within your business model.
You don't want a hasty product expansion to negatively impact your existing (successful) business.
Growth strategy #4 Diversification – Develop new products for new customers
The most advanced (and risky) growth strategy involves diversifying into other businesses that will target new customers in new markets.
These new businesses may be related or unrelated to your core business. For example, if you operate a coffee shop, you could diversify into opening a bakery that supplies coffee shops with muffins. In this way, you are capturing more of the value chain.
Alternatively, you might diversify into an unrelated business as a way to balance out your other business.
For example, you could open an ice cream store. The ice cream store will be busy in the summer, which will make up for fewer people buying hot coffee. Large conglomerates are probably the best known examples of diversification, but you don't have to be a billion dollar company to try it out.
One approach is to partner with a complementary business to develop a strategic alliance that benefits both parties. You can also purchase a complementary business, which allows you to take on the skills and institutional knowledge of that business without needing to build it from scratch.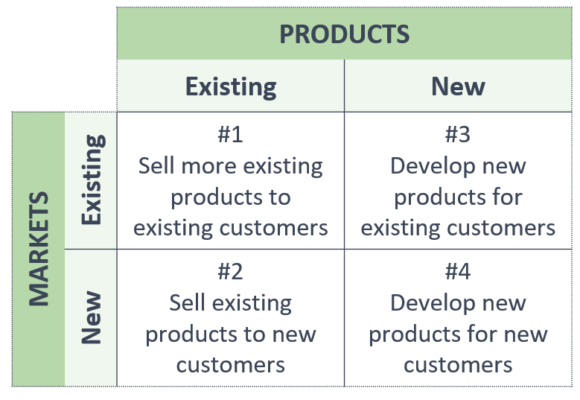 Growing Sustainably: Are you good to grow?
When your business is new, it's very tempting to want to take over the world. After all, if people love your product, what's the harm in trying to grow? Well, if you don't plan your expansion carefully, it can actually set you back! Here are some roadblocks to look out for:
Does this move fit with your overall business goals? Some opportunities can be hard to pass up. But before you expand, revisit your overall business goals and make sure the new opportunity is actually a fit.
Is this something you could succeed at? Your growth strategy must consider the core strengths of you and your team. If you try to jump into a completely new business or product, you might struggle to ramp up.
Is there enough demand for an expansion? Just because you have one busy coffee shop doesn't mean that opening a second location will automatically be successful. Take your time and do some primary market research to see if the market can handle it.
Can you test the market first? For example, you could open a pop up shop or try a short term lease. If that works, you can have more confidence in your plan.
What is your capacity to expand? Many businesses have an optimum production capacity. Maybe your kitchen can only make 2,000 muffins a day. In that case, you'll be limited in how much you can grow—at least until you're ready to invest in new production capacity. Similarly, you may currently be underutilizing your production capacity. In this case, take this excess capacity as a hint for where to focus your growth efforts.
Can your supply chain handle it? No one likes to have to wait for product, but if you're in a period of growth, there's a good chance your supplier is going to let you down at some point. Keep a clear line of communication with them about your expected order volumes. Play out a few scenarios with them to understand potential wait times. Then, be honest with your customers as soon as delays impact your service standards.
Do you have the cash to grow? Cash flow timing is probably the number one barrier to growth faced by smaller businesses. You've implemented your growth strategy, and suddenly you have more orders. Great! But now you need to order more products to keep up—and your supplier wants to be paid in full. Now you have accounts payable piling up, and not enough cash to cover it. This is why your growth strategy needs to be accompanied by a thoughtfully prepared cash flow projection. Look at your cash needs for the next six months under the new strategy compared to your projected inflows (and be conservative about the timing of those inflows!). Is there a shortfall? Now is the time to talk to your lender about a term loan (such as WeBC!) or make sure your Line of Credit can handle it.
If you're looking to grow your business, you have options! When you break it down it can be easier to find the growth strategies that will work for you. And if you'd like support from a Business Advisor as you develop your growth plan, just get in touch with us—it's free!
---
Get More Business Growth Tips in Our Free Resource Guide